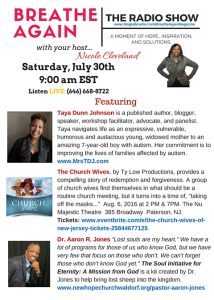 FEATURED
Taya Dunn Johnson is a published author, blogger, speaker, workshop facilitator, advocate and panelist. She has been the Producer and Director of the Listen to Your Mother Baltimore show since 2013, and has served as the Diversity and Inclusion Consultant for the entire National project since 2014. Readers and clients connect with Taya as she navigates life as an expressive, vulnerable, humorous and audacious young, widowed mother to an amazing 7 year old boy with autism. Her commitment to improving the lives of families affected by autism has been steady since her son's diagnosis at the age of 2, and Taya currently serves on the Board of Directors for the The Autism Society of America – Baltimore Chesapeake Chapter. | www.MrsTDJ.com
Ty Lowman – The Church Wives – Ty Low Productions has one mission: To change lives one production at a time. In each production, we seek to effectively inject biblically based messages in a way that reaches the heart of people and preserves the integrity of the biblical text, messages and the Body of Christ. We ask for your partnership and support in bringing uplifting entertainment to your parishioners and the Body of Christ across our region. We believe when you change what an individual looks at, you change the individual. Ty Low Productions is based on the power in relational unity and the Biblical principles of Love, respect, family bonds and treating others as you would like to be treated.
THE CHURCH WIVES, by Ty Lowman provides a compelling story of redemption and forgiveness. A group of church wives find themselves in what should be a routine church meeting, but it turns into a time of, "taking off the masks", and allows them to find the commonality and sisterhood within their personal stories of betrayal, guilt, forgiveness, and spiritual struggles. This moving portrayal promises to keep audiences on the edge of their seats as each wife's story unfolds. Tickets for this production are only $25.00 – THE CHURCH WIVES The Musical Monologue , on August 6, 2016 2 PM and 7PM at The Nu Majestic Theatre 385 Broadway Paterson, NJ. | www.Tylowproductions.net
Author Spotlight
Dr. Aaron R. Jones – In addition to being the Senior Pastor of the New Hope Church of God located in Waldorf, MD, he is the Senior Pastor of New Hope Church of God in Maryland, he oversees the New Hope Church of God Ghana and New Hope Church of God Uganda, both located in Africa.  Dr. Jones is the owner of God's Comfort Ministries, LLC, a company that provides foundational books to assist new converts and seasoned believers in understanding doctrines, principles and teachings of the Bible.
A prolific writer, he is the author of 10 books, The Soul Initiative for Eternity Project, The Soul Initiative for Eternity, The Disciples Conclusion; The Disciples Conclusion Workbook; The Joshua Resolution; Out of My Comfort Zone to Honor God; The Pastor's Intercessor; How the Holy Trinity Communicates to Mankind; Eight Effective Keys to Personal Evangelism; and Equipping the Church for the Harvest. | www.newhopechurchwaldorf.org/pastor-aaron-jones/