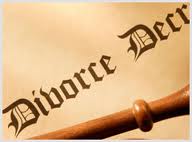 Shall I begin with all the wonderful memories?
I think not!
I'll begin where the devil thought he had me – killed and destroyed. But God wasn't having that and neither was I. In a dream God showed me a vision of my husband being swept out of my arms with a group of women. This was long before I received the "I'm leaving you because I'm not happy" speech from my husband.
It was April 15, 2001 in Wiesbaden Germany. I stood smiling at him when the Holy Ghost whispered to me, "Ask him what it is about this young woman that makes him happy". The Spirit told me to remind him that I was all the things he claimed she was. He made excuses, telling me I should try to be someone other than who I was. It reminded me of the Scribes and Pharisees trying to make themselves appear righteous by condemning Jesus. By the end of that conversation he was apologizing saying, "You're right. Every thing I have ever asked you to do, you've done it. You have been a good wife".
As my husband spoke those words, the Lord spoke to me again. "Divorce him and I will make your marriage better than it ever was." Of course, I tried to reason and ponder these words in my heart, but I knew it was the Lord. I didn't understand it, and I didn't want to, but I knew it was the Lord. It was sort of like when He said, "My Grace is sufficient for you Paul". Huh? Is that You, Lord?
My husband was perplexed because I wasn't fazed by his decision. I wasn't crying or begging. What my husband didn't know was that I had just had a battle with the devil over my health  and my children's health. My two-year-old son had just spent five days in the infectious disease ward of the hospital with an ailment the doctors couldn't identify. The same infection tried to attack my three-year-old daughter and me. I commanded our bodies to line up with the word of God. Then I packed my bags and went home to my mother. I was an unemployed, homeless, single parent with nothing. This was not part of my plan, but I knew God was going to use it for my good.
Then things got even worse. I ended up having to take the children back to Germany to live with their father while I stayed with my mother. My heart was broken. My children were gone, my husband was confused and God had surely forsaken me. During a six-month period, I had sex with three different men in addition to my husband. I was spinning totally out of control and I knew it. Yet, I still hadn't done what God told me.
I still hadn't divorced my husband.
In February of 2003 I was living in Phoenix, AZ. I used my last $200 to process and file my divorce papers. Even though the path of righteousness was made visible again, my heart was torn into still more pieces.
I found myself in love with two of the four men I'd had relations with: my husband, and Mr. Right all the time. It was clearly time to wipe the slate clean. I knew there could be no more sex with anybody. That's right, no more sex with anybody, not even myself.
I cried and wailed at God that this was so unfair. I pleaded with Him to help me. Finally, I decided I would throw myself into the ministry. I would forget about men and any promise the Lord had given for restoration. This effort proved useless because I was defiled on the inside. All I could think of was what I didn't have.
No Sex
No Job
No Money
No Children
No Husband
No God
This is how I felt. I was disappointed with God! I couldn't understand why He would allow the devil to do  these things to me. I believed I had done everything He had asked me to do. But if you look at my list, it was SEX and not God that was first. God was at the bottom of the list.
Laughing Out Loud
In light of this divorce I have begun to laugh again. Every little dirty and evil work in my heart has been revealed. God used this opportunity to deal with my flaws: haughtiness, low self-esteem, approval seeking, fear of rejection, childhood hurts, fornication, bad attitude and lack of patience.
I had plenty of good works and faith, but I had no roots; therefore no Fruits of the Spirit were visible. Jesus says, "Every tree that is not fruitful the Father will pluck up and toss in the fire". I did not want that to happen to me. I was disappointed and I wanted to hurt God because I had trusted Him to save my marriage. But I knew it was the devil and I wanted retribution – a hundred-fold return, including seven times what was stolen and double for my trouble and shame. Well, the best way to stomp on the devil is to produce Fruit!
After dealing with my root issues I could smile and exercise the Fruit of the Spirit in my life, and see positive results. The Lord told me, "You have need of patience that after you have done the will of God, you might receive the promise." (Hebrew 10:36) I asked Him, "Why do I need patience?" Then I was led to Luke 21:19 which says, "In your patience possess you your souls".
This was life changing for me. I now looked at patience in a different way, not just dealing with other people, but also in dealing with myself. By exercising this Fruit of the Spirit I could gain control of my soul (my mind, my will and my emotions), because for me, my soul was the very thing getting me into all this trouble. This was a wonderful scripture in two parts. Patience helped me receive the promise of God after doing his will. I figured out the "do His will" part; now God wanted me to have the whole package. I was ready to let go of the past and press forward to the prize of high calling.
Now my mouth is filled with laughter. Divorce thought it would destroy me, but I just laugh in the devil's face because I know I'm getting the promise of God for the restoration of my marriage.
It's been four and a half years of celibacy and I wait patiently on the Lord. Why do I wait? Because, in my dream after my husband went willfully with those women, I was carried inside a church and became the wife of God. After doing a good work God let me go, and when I reached for the door my husband was coming in to get me.
Stephanie Walker resides in Phoenix Arizona.