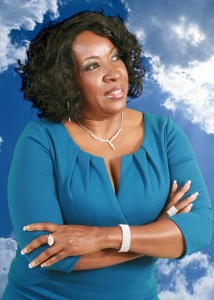 What is the Encouragement Campaign?
It is 21 days of Hope, Inspiration & Solutions, just like the mission of our weekly radio show.
Many people don't know where to turn in the midst of their storm. We tell them to read the Bible, and that's what they need to do, but where do they go in the Bible? I can remember when I would go to the bible and it was just words. I didn't know where to go nor what story or scriptures to read. It was just "Thou, Art ,begat, Mennonites," and many other words I didn't understand nor could pronounce. ~ Nicole Cleveland, Founder of Breathe Again Magazine
For 21 days you will hear from men and women of faith that have gone from victim to VICTORIOUS !
They will share how they survived and what encouraged them to keep going.
Click here to receive the 21 day series  in your inbox.

Scripture: The poor and needy seek water, but there is none, Their tongues fail for thirst . I, the Lord will hear them; I  the Lord of Israel, will not forsake them.  Isaiah 41:17
This scripture reminds me of a time in my life when, I lost everything …..my home , my marriage , a couple of close friends made their transition, I had lost a baby and my Dad made his transition, I was overwhelmed!  To say the least, I knew that GOD was allowing these things to happen for a reason, I just did not know what his plan was for my life at the time.
I was poor and needy, I sought after GOD's face day and night… I cried out to him in desperation at times when the burden seem too much to bare.  It was through this tough time that I developed an intimate relationship with GOD!  He had my full attention, I humbled myself under his loving care and he did just that, he took care of me and my sons. I suffered at the hand s of many who mocked and spoke evil against me… I did not take it personally because GOD helped me understand why they said and did the things they did.
He helped me understand that they too needed an intimate relationship with him ,and that their time had not yet come. It was my time and I had to walk that road… but I did not walk it alone… GOD was right there with me every step of the way.
Encouragement: If you are in a real struggle now and it seems as if there is no way out, if you are feeling overwhelmed and confused… know that today you have a Savior who has promised never to leave you or forsake you!  He did it for me and He will do it for you! GBU!
by: Linda McCoy
Author/Publisher
Websites: darlinpublishing.com  |  5loavesofbread.com