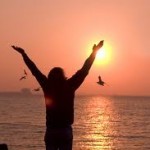 The year that's about to end, I could say, was a bittersweet journey for me. There were some events this year that made me appreciate life more and there were also some that made me lock myself inside my room and cry out to God for help and enlightenment. There were a lot of things I learned about life, about my faith, about people, and topping them were the things I learned about God that made me enjoy my walk with Him all the more.
During our Victory group's Christmas party held in Tagaytay, one of the activities done was writing down on a paper designed and printed just for the occasion, the top 5 things we are thankful for in 2011, the top 5 things we are believing God for in 2012, and our message to God.
In all sincerity, I had a tough time choosing the top 5 of the things I'm thankful to God for in the year 2011. It maybe a bittersweet ride but nevertheless, I realized I still have countless of things to be grateful to God for. He ushered me in to the start of the year with much hope in my heart and still continued to fill my heart with more wonderful things to aspire for in the year and years to come.
Perhaps, I could summarize my 2011 in three words: SEASONS.CRAVE.WAIT
SEASONS.
God put me in a number of seasons in 2011. In some of these seasons, God let me hear His voice loud and clear in almost all the conversations I had with Him, while there were also some seasons when He seemed too silent and far away. Nevertheless, I am just as grateful for all those periods of my life because I've learned to understand what 'walking with God' actually means and what it really takes to be able to enjoy that walk on a level that you and God only know.
CRAVE.
The seasons of my life in 2011 made me crave for God and His words more than ever. I was able to feel that certain longing to get to really know Him and hear His voice. And being able to finally hear God's voice was the highlight of my year. I never really thought that that thing could actually happen. Since then, in most of my quiet times, I would always   be excited to hear His voice and what He wants me to know and be enlightened about. In most of my decisions, if not all, I've learned to seek Him first before deciding what to do.
WAIT.
I've checked my 2011 Faith Goals recently and yes, not all of the things listed there were crossed out yet. Not yet. Nonetheless, I am thankful that God blessed me with a heart to continue to wait on Him patiently. Being able to get to know Him more and spend more time with fellow believers, I was now able to associate and include JOY with WAITING.
Waiting and hoping on God is indeed much happier and bearable than to wait and on hope on man. People could fail you, even the closest person to your heart could let you down. GOD NEVER WILL.
~~~~~
Apple Lopez