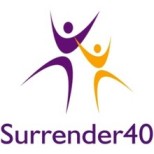 Surrender40 began as a voice from God speaking to our founder, Trachena Muchnick on the eve of Christmas, 2008. No explanation, no real direction at that point, except that she knew that it WAS HIS voice telling her to Feed His Sheep on the mean streets of downtown Miami, Florida. Miami is among the Top 5 Un-Churched cities in America. By its very nature and reputation, a party town and a very dark, drug infested city! Obedient to His voice, Trachena, along with her husband and co-founder, Steve, began to organize what is now known as Surrender40, Inc. a tax-exempt non profit ministry.
The ultimate dream of Surrender40 is to someday open a shelter for people coming out of prison, or who desire to get off the streets and devote their lives to the very God who created them and will NEVER stop loving them. They will be placed in a 40 day program where they will learn structure, skills, and scripture, in order to regain the self worth that God intended for us all to have since we are created by Him and for Him. They will then turn around to disciple others in the same way that they were trained up!
Surrender40 is blessed with the privilege of feeding over 200 people every two weeks as well as handing out Bibles, socks, clothing, hygiene items and BEST of all preaching the Gospel of Jesus Christ to the lost and homeless of Miami. The ministry also visits inmates at the Homestead Correctional Facility as well as other prisons around the country when we are called. In addition, we have a hospital team that prays for and ministers to sick people in various Florida hospitals.
To learn more about Surrender40 visit their website – www.surrender40.com or email them at surrender40FL@aol.com
Twitter – www.twitter.com/surrender40
Facebook – www.facebook.com/surrender40
YouTube – www.youtube.com/surrender40