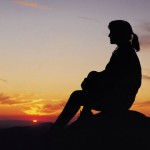 I know at one point I asked myself that question many times. I looked at the people around me and became very envious because they seemed to be very successful. I always felt sorry for myself and was angry all the time because I couldn't see the gifts I had.  Every day I had a new idea, or a new business venture. Even though I couldn't see my gifts I felt there had to be some hidden away. No one around me gave positive feedback about my gifts so therefore I simply concluded I had no gifts and I was never going to be successful as an individual.
After high-school I tried going to college five different times for five different subjects. I went for accounting,  radio broadcasting, telecommunications, business marketing, and child development. Each time was based on a spur of the moment thought to work in that field. I never made it past one semester. I tried selling cosmetics a few times. Each time the person training me seemed so confident and successful and I figured if they could do it why not me?  I lasted no more than two months. Let's not forget the many, many business ideas I came up with. I was going to start a daycare center, sell real-estate, make t-shirts, do scrapbooking, start a non-profit organization, medical billing and catering. I can go on and on with many more. None of these ideas ever took off. There was a pattern in each of these situations and I came up with a conclusion about myself. I concluded that I was a person who couldn't finish what I started. I had no confidence or belief in myself. I was convinced I was here on earth for no special reason at all.
Well, that was then, and that was prior to becoming a believer and realizing the love of Jesus Christ!  Jeremiah 5: "Before I formed you in the womb, I knew you; Before you were born I sanctified you;" Those are the words from our Father in heaven. When I became a believer I finally realized how loved I am. I finally knew I had a purpose and calling. I knew instantly when I became a believer I was being called into ministry. I enrolled into a Bible college. Here I was again attempting college. Only this time I was a child of God. Not to mention a married mother of three, at the time, and facing a financial disaster, but I enrolled into Bible college away. My husband and I went through very bad financial problems and an unplanned pregnancy, but I never stopped going to school. I had finally realized my gifts and my calling and I knew nothing could stop God's plan if I continued to have faith.
What is your calling? Maybe you think the way I once thought and feel you have no purpose, or maybe you think your situation is too big and too deep to even think about following your dreams. If it is God's calling on your life nothing can stop it. What were your dreams as a child? We often allow our surroundings to influence our dreams. We tend to look at others and think we want the same. But I always say; as a 10 year-old what did you dream about?  As a child I remember being a writer. I was the neighborhood writer, producer and director. I was always putting on a production. I was always writing a play, or a story or a screenplay. But not knowing God, I didn't realize that was a gift He gave me.  Think back to your childhood and pull up those hidden talents.
God expects us to use what He gives us. Matthew 25: 29 For to everyone who has, more will be given and he will have abundance"  This section in the Bible is speaking of talents we are given from God and we are to use them. It doesn't matter where your life is right now. It's not too late. You're not too old; too young and your situation is not too big. When you bring it Jesus and ask Him to help you, you will slowly but surely realize your dreams coming true. It is a process that takes hard work from you. It won't happen overnight. You have to be patient and trust that God is doing work inside you at the same time. One of my husband's absolute dreams was to be a football coach. That's all he ever talked about. He said as a child he wanted to play football more than anything, but never had the opportunity. He loves watching football. In 2009, he hesitantly went to the coaching staff at our son's new high-school and asked if they had any positions, and they did. He was offered a volunteer position as an assistant on the JV football team. He was on cloud nine. He knew that was the beginning, and he knew that if he stayed patient God would continue to move him further and further as he continues to learn and grow.
Don't wait for the perfect moment to start living your dream, because today is the perfect moment. God wants you to believe in Him and realize the potential He has given you. He wants you to ask Him to help you and trust in Him as He moves you in the direction of your calling.
You are going to be told by others to stop dreaming, or don't waste your time, but God doesn't waste anything. You do have a destiny, and your destiny will be fulfilled with continued faith. Your dream is going to come true! One day this article will be written by you to inspire others. Never give up on Jesus as he will never give up on you!
Saleama A. Ruvalcaba is a wife, mother, writer and speaker. She is the wife to Omar and together they share four children.Saleama is a Bible student and serves in leadership at her home church. She's a council leader for women's Tuesday morning Bible study and publicity coordinator for MOPS (Mothers of Preschoolers). " I am asked, daily, how I manage it all with a straight face, and the answer is Jesus! I became a believer in 2007 and never looked  back". Saleama can be reached at Saleama@salruv.com