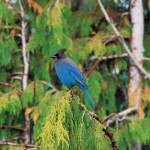 The Lord is my Strength and my [impenetrable] Shield; my heart trusts in, relies on, and confidently leans on Him, and I am helped; therefore my heart greatly rejoices, and with my song will I praise Him. Psalm 28:7 AMP
It was definitely no mistake, my peaking out the kitchen window to enjoy a quick view of our backyard and learn the weather conditions before dashing off to work. The trees looked sturdy as ever, the sun shone brightly on the grass, and the dried leaves from last fall that are hard to gather remained vigilant. The weather appeared very inviting. I stepped away from the window to get my breakfast and gather my lunch containers and then heard my husband urging me to move quickly and witness the blue jay feeding its infant.
Oh it really was a wonderful surprise.
I observed that there was another young fury feathered bird not so far in the distance. It was apparent that more than just an early morning feeding was occurring. We realized that this was the case because once the Blue Jay was fed-as if on cue it began to flutter its wings. The youngster's furious flapping didn't get him far at all. Maybe midway up the trunk of the broad tree, if that far! Then the miniature wings seemed to broaden, but that didn't prevent the Blue Jay puttering out and down the tree trunk! The bird's stamina returned and then made another attempt to fly. Determination was evident.
We observed that in the near distance was a squirrel, possibly summing up the situation and planning to pounce on this unsuspecting prey. We were correct. The squirrel leaped in midair towards the baby Blue Jay, but its attempt was feeble. The squirrel didn't prevail! In a split second a pair of elder Blue Jays pounced on the squirrel and a chase erupted. You had to witness this to really appreciate it. A squirrel being pursued by Blue Jays, imagine that! Who was the victor then? The Blue Jays were prepared to win! They didn't miss a beat. Oh my friends, there was no victimization mentality there! They were having none of it!
The youngsters were having a real survival lesson and our backyard was the launching pad. We enjoyed watching the heroic Blue Jay family and immediately in my spirit I surmised that abundant life costs, it's not free! It's not easy, and it's daunting at best and often a struggle to get ourselves off the ground, moving up the "tree of life" towards our destined call. Launching pads aren't for the faint at heart. Wimpy sprits aren't welcome, they need not apply and bully's better get back! I appreciated the parents of the baby bird and how they were there to teach, direct and protect, but wise enough to understand that it was time for the babies to be pushed out of their comfort zones.
God designed and orchestrated our observation of that teaching moment! Thank you Jesus! Today's life lesson demonstrated with a simple act of our peering out the window many things about God's providence. What does this lesson convey to your spirit? I trust you'll agree that daily it takes muscle, wit, tenacity, strength and determination to say focused and endure! Let's agree that God is our strength and gives us the resolve and nourishment needed (i.e. His scripture and guidance) to keep at it. It allows us to keep attempting to get our living right.
Thank goodness for the concordance which alphabetically lists the principal words like "strength" to assist us in locating reinforcements, the sword; the word of God! Yes, the Holy
Scriptures to make living relevant
Isaiah 41:10 – 13 AMP
Fear not [there is nothing to fear], for I am with you; do not look around you in terror and be dismayed, for I am your God. I will strengthen and harden you to difficulties, yes, I will help you; yes, I will hold you up and retain you with My [victorious] right hand of rightness and justice Behold, all they who are enraged and inflamed against you shall be put to shame and confounded; they who strive against you shall be as nothing and shall perish. You shall seek those who contend with you but shall not find them; they who war against you shall be as nothing, as nothing at all. For I the Lord your God hold your right hand; I am the Lord, Who says to you, Fear not; I will help you!
Remember it is ok to follow our lead, lift the shades, open the doors, pull up the blinds and part the curtains as you marvel at the Divine at work! God will give you the strength to soar! We are witnesses that abundant life does costs, but it is so sweet!! Rely on his word; His strength is yours for the asking!
ABOUT THE AUTHOR:
Linda Mose Meadows is celebrating ordinary days with extraordinary promises! She's co-editor of Eyes of Faith Magazine :https://eyesoffaithmagazine.blogspot.com/ https://issuu.com/eyesoffaith and the Inspirational Author of devotional (paperback/audio book/eBook)entitled: The Blessedness of Believing A Devotional Journey of Life's Lessons and God's Promises , Journalist and Inspirational Columnist for Empower  and Urban Views weekly-Richmond Times Dispatch.