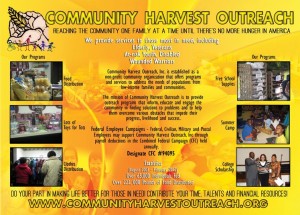 Our Non Profit Spotlight is Community Harvest Outreach, Inc
Community Harvest Outreach, Inc. (CHO) is a nonprofit organization that seeks to meet the basic needs of the underprivileged in the community.  This includes providing food, clothing, and educational services to our clients through the clothes closet, our food bank, and tutorial program. Our goal is to reduce malnutrition in the most vulnerable: children and the elderly and to prevent illnesses due to improper clothing and lack of food, while providing essential educational skills.
We recentlly caught up with founders, Ernest & Laequinla Hunter.
~~~~~~
Q. How long has Community Harvest Outreach been in existence?
A. We have been in existence for five years.  Since its inception in 2007, Community Harvest Outreach has worked to stomp out hunger, and provide a better quality of life to those in our community.  With the help of our sponsors and community partners, we have fed over 67,000 individuals and distributed over 200,000 pounds of food.
Q. Who are your clients / customers?
We provide services to all races, colors, creeds, and age groups.  However we service a high number of elderly, disabled veterans, and families with young children.  Our clients consist of everyday people who are trying to make it in this tough economy.  The person who comes to us for help may be your neighbor, a member of your church, or your friend.  Our clients are hardworking, good, kind people who need a helping hand.
Q.How are you reaching your clients / customers?
A.With the help of our corporate sponsors and community donors, Community Harvest Outreach Inc. conducts its distribution program bi-weekly from our home distribution center located in Windsor, VA.  Our doors are open every Wednesday and Thursday for distribution from 11am to 2pm, and a photo I.D is required to receive services.  Throughout the year CHO also hosts several community events.  These programs include the Easter Eggstravaganza, Community Day (school supplies, backpacks), Summer Sizzler Camp, Fall Festival, Coat Giveaway, and the Lots of Toys for Tots campaign.
Q. What inspired you to start?
A. Community Harvest Outreach, Inc. was birthed out of a great need that we witnessed in the community.  We started out distributing bread to the neighborhoods in the community, and things grew from there. Thanks to the help from our corporate sponsors and community partners we are now able to provide bread, produce, meat, and canned goods for the hungry and gently used clothing and shoes.  We've branched out and now provide tutorial services to educationally advance the disadvantaged.
How do you do what you do and why is it important to you? You both are Pastors, evangelists, authors, business owners, you counsel etc….How do you make the time? Why is it important to the both of you?
We would not be able to do what we do without our wonderful volunteer staff. We would like to thank them for their hard work, dedication, and the spirit of excellence they embody.  It is grueling work–operating year round with only one week off out of the year. It is all worth it when we see the grateful smiling faces come through the line.  Knowing that a family may not eat if we close the doors is enough motivation to keep pushing forward.
What are your needs for CHO at this time?
With the economic downturn, we have seen the need in our community skyrocket!  Our distribution line is generally wrapped around the building, as we continue to work to help those who need it the most.  We know that we would not be able to operate without the generous support of our donors, and your help is needed now more than ever before.  As we provide services to the elderly, disabled, and young children, our operational costs continue to rise.  To effectively meet the needs of our clients we could use new refrigeration and freezer units, office supplies (ink, printing paper, stamps, envelopes, etc.) and new or gently used shoes and clothing.  Every donation helps whether it is $5 or a brand new toy for a child who otherwise would not have a Christmas.  Your help and support is appreciated, as it is much needed.
Do you offer volunteer opportunities? If so, in what areas?
We are always offering volunteer and internship opportunities.  We are currently accepting applications for our Windsor, VA office.  Those interested may apply online at www.communityharvestoutreach.org or call 757-556-5403.  Volunteering with our organization is a rewarding and enjoyable experience!
How can one make a donation?
We need your donations, and as a 501c3 non-profit, all donations are 100% tax deductible.  Donations may be made by visiting our website: www.communityharvestourtreach.org . State and Federal employees can donate through the CFC and CVC campaigns. Donations may also be made in the form of check or money order and mailed to our local office.  Finally, donors can also call 757-556-5403 and make a pledge by phone
Q. Do you have any special events coming up?
We are continuously having special events in our community.  Currently, we are partnering with V.I.P. band to provide a Live Jazz Summer Series.  Our next Jazz Under the Stars evening will be Friday June 29th from 7:30pm to 9:30pm.  Tickets are $10 and include a dinner buffet.  Proceeds go to support the cause of CHO.  To stay updated on our latest events follow us on facebook at www.facebook.com/communityharvestoutreach
Community Harvest Outreach, Inc. 5 Roberts Avenue Windsor, VA 23487 (757)556-5403
Email: info@communityharvestoutreach.org
Website: www.communityharvestoutreach.org
Like us on facebook! www.facebook.com/communityharvestoutreach