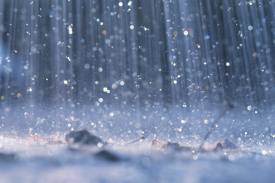 Who wants to wait in the downpour of the cold and wet rain without an umbrella?
I will answer that question for you, just about no one. Most of us who find ourselves in the midst of a rain shower would choose to take cover in a nearby shelter. No one, if they were to be truly honest with themselves, likes to feel vulnerable or helpless. Often times, storms erupt without a moment's pause and catch us all off-guard and unexpected. Take it from me: it is possible for the weatherman to have sunshine with clear blue skies in the forecast, only for you to find yourself trapped in the grip of a thunderstorm. So many times, I was ill-prepared for the weather conditions, fell victim to not being dressed appropriately, and without an umbrella, let alone a poncho. Like many of you reading this page right now, I was left with no other choice but to walk and wait in the rain. I could have elected to press fast forward by running through the storm, but as a child, my mother shared some words of wisdom that I will never forget. She said to me once, after we were caught off guard by a sporadic rain shower,  "Run or walk son, you are still in the rain, and the rain is still going to get on you no matter how fast you run."
The same principle is true about the storms we encounter in our lives, in the fact that we may try our best to run through the storms; however, our personal storms will inevitably make contact with us. As Christian believers in pursuit of becoming more like Christ each day, we have to learn and develop temperance for the trials that come upon us unexpectedly.
In life I have been been faced with the ultimate challenge of having to endure the tragic loss of a love one.  I've suffered the loss of my father suddenly without warning and no time to say goodbye. Now I can only rely on God to bring closure and mend my broken heart.  Believe me I'm not writing this to play the role of a victim but inviting you inside of my life so that you may examine the victory in having a sincere relationship with Christ.  Contrary to popular opinion bad things can still occur during good times or joyful seasons. In other words trouble waters can begin to rain in our lives despite the forecast of clear blues skies and sunny conditions.
Trust me, it is hard to stand still, when you do not know what you are waiting for or what to do. God desires to teach us how to stand still and wait. If you are like me you need Christ to provide you with the necessary tools needed to go through every event in life.
GOD BLESS YOU.  HERE ARE SOME TOOLS THAT HAS HELPED US ALONG THE WAY. (1) WAIT And Stand WITH PATIENCE-allow God to work in your life and experience one day at a time. (2) WAIT – also means to act like a waiter. You and I may not be able to stop the wind and rain in our lives but we can serve our way through it. Right in the mist of your waiting please find the time to bless someone else. I dare you to say to the Holy Spirit within yourself" MAY I TAKE YOUR ORDER". (3) WAIT IT OUT- no you and I can't stop the storm but you can out live the storm. God doesn't want us to run through the thunder and lightening HE wants us to stand in the trying and turbulent times.
You and I can and will out live our storm, because the Lord of the tempest (Jesus Christ) is within you. The bible says having done all to stand the only option is to stand! (EPHESIANS 6:13) Stand still wait on the wind to turn in your direction.
I prophesy a word of clarity over your life that the wind and rain that has been blowing against you is ordered by the Lord in order to make you better. THE SAME STORM THAT HAS FELT LIKE IT HAS CURSED YOU HAS BEEN BLESSING YOU ALL ALONG! Storm winds blow character into the foundation of our lives and whatever is in the foundation holds everything else together. WAIT I SAY ON THE LORD (PSALMS 27:14)! Wait you are not losing your mind your God is just breaking a mindset. Often it has been said that "Good things come to those who wait" but I beg to differ "Good things are in those who wait on the Lord." Remember Don't Press Fast Forward! Learn to appreciate where you are! Wait! Don't try to find an emergency exit endure the process! Stay Blessed! ~OTR
~~
 Oliver Reid is working on his sophomore book, Words From the Low Place "Your Lowest For God's Highest "based on this article. He is returning to the writing scene in search of ordinary individuals with amazing stories of victory in order to Coauthor his Words From the Low Place Project  www.wordsfromthelowplace.com