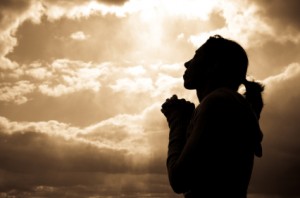 He makes me lie down in green pastures, he leads me beside quiet waters, he restores my soul. He guides me in paths of righteousness for his name's sake. Psalm 23:2-3
Driving up the steep, curvy, gravel road, I asked the Lord to meet me on the mountain. After a season of intense trial, I needed some time alone with the Lord. I needed the peace and comfort and restoration that only come through Him.
After breaking my right foot in early spring, I'd been unable to walk or drive for ten weeks. As my world shrunk to four walls, the days crawled by. Satan didn't waste this opportunity, this time of weakness and discouragement, to attack. Life delivered another blow that threatened to break my very spirit – my soul.
As I returned to the doctor for check-ups and x-rays, the news was the same time after time. The bones haven't healed. The bones haven't healed. "Why aren't your bones healing?" the doctor finally asked.
The news from my spirit was the same. The heart hasn't healed. The heart hasn't healed. "Why isn't my heart healing?" I cried out to the Lord.
I felt so helpless. I felt so alone. I felt so wounded. The words that usually poured from my heart onto the page ceased. This had never happened to me before. Yet, that's exactly what Satan wanted.
Ten weeks after the fall that broke my foot, I returned to the doctor for yet another x-ray. With the report in hand and a smile on his face, he walked into the room and delivered the wonderful news – your bones have healed. Even though my foot was tender and painful to walk on, I enjoyed every step I made. I enjoyed getting into my car and driving once again. My foot had been restored.
But my heart – my spirit – that was another story. Desperately needing to get away, I made a reservation for a few days at Pilot Knob Inn. Arriving at the tobacco barn cabin, I unpacked my bag and laid down for a nap. As I closed my eyes, sleep didn't come – prayers did. Lying on the bed, I began to feel God's mighty presence as I poured out my heart to Him.
The room was dark because the view from the small window was obscured by trees. Suddenly, an intense light from the sun shone between the leaves and forced my eyes open. I hadn't seen even a tiny opening in those leaves but God allowed the sun to break through and flood not only my face but my heart. As I shielded my face from the bright light, I felt that I, like Moses, had seen the goodness of the Lord pass by me.
Throughout the weekend, each time I tried to nap, my nap time turned into prayer time. I was drawn to God's word and read Scripture that I'd highlighted while going through previous trials. I read all the verses I could find pertaining to healing.
Thinking my broken spirit couldn't be repaired in one short weekend, I merely hoped to find peace and a little restoration. Packing my car to return home, I realized how little faith I have in our big God. I'd asked the Lord to meet me on the mountain and He had met me on the mountain. I asked him for a little peace and restoration. God gave me His peace that passes understanding and He healed my broken spirit. I returned home to the same problems I'd left behind only now, by His grace I knew I could handle them. The Lord restored my soul.
Susan Shelton Dollyhigh is a free-lance writer and columnist who recently won the Women of Faith Shine the Light Contest and 3 awards at the Blue Ridge Christian Writers Conference. She and her husband have two children and two grandchildren and reside in Mount Airy, North Carolina (better known as Mayberry). www.inspirationfrommayberry.com