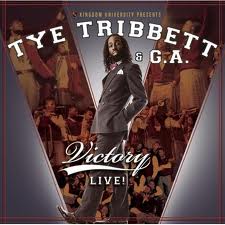 Because The Devil Is Defeated and God Be Praised
I Got The Victory, The Victory
Every Situation I Face I Win
I Got The Victory, The Victory
And Everything Works For My Good In The End
I Got The Victory, The Victory
Those are a few words from Tye Tribbett's praise song entitled "Victory"
The dictionary's definition of victory is "a success or triumph over an enemy in battle or war."
Victory must start with Praise, be consumed with Praise and the conclusion must be Praise.
When we know we are struggling with something and gain yet another step or jump over another hurdle in that struggle, that's a victory. We must celebrate the small with the big. We assure victory by first having victory in your mind.
Proverbs 23:7 reads "For as he thinketh in his heart, so is he.
If  we think we are defeated, we are. But if we change our attitude from defeat we begin to walk victorious, talk victorious.
To be victorious to me is to overcome an obstacle, to take yet another step. To stomp on the word NO. To stomp on the word FEAR.
One battle I thought I would never be victorious over was to love someone that did nothing to deserve my love. In fact they did everything in their power to tear me down and break my spirit.  How do you love someone that did everything in their power to hurt you? I struggled with this daily but the word said that I must love as Christ loved and that love covers a multitude of faults.
When I began to study I Corinthians 13 the Lord showed me what love really was and I was missing the mark big time. But I was in flesh and everything in the natural told me that you love when love is returned. If they don't love you don't love them. But that is how the world loves and that was part of my "old" man. Now that my mind is renewed and I am a new creature my character had to change.
To say you love someone is to love despite what they do. To love like Christ loved.
That is true, unconditional love. When Nicole started to look at the person as Christ did and that he loved me in spite of me, it was much easier to love. Because I was a mess and he still loved me.
At times I don't dot all my I's and cross all my t's concerning that unconditional love  but I can honestly say that I am not how I used to be. And that my friend is a VICTORY.
A true champion for God knows they are victorious over the battles they are facing. They meditate and apply the word of God in battle. We must know that our true and only weapon in battle is the word of God. It is the final authority in everything.
~~~~
Nicole Cleveland is an author, speaker and founder of Breathe Again Magazine