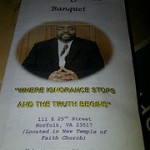 The Lamb & Lion Worship Center celebrated their "Coming Out Banquet" on Saturday
June 25, 2011.
My husband and I were in attendance, along with more than 100 other attendees.
It was both an honor and a privilege to see what God is doing in the lives of
Pastor Lemuel Eaton and 1st Lady Carolyn Eaton.
The banquet celebrated the launching of the Lamb & Lion Worship Center
located at 111 E.25th Street in Norfolk, VA.
The Lamb & Lion Worship center opened the doors of the church in November of 2010.
Pastor Yvonne Dunn from "The Birthing Place Worship Center" in Portsmouth, Virginia
preached the message.She charged Pastor Eaton to continue to preach Jesus and the Cross.
Lamb & Lion Worship Center's mission is to turn God's people from Lambs to Lions in all
aspects of their lives in order to make them whole.
God Bless LLWC !
Visit them online at www.llwc.net