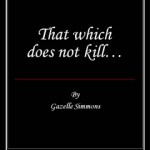 Episode #24
Gazelle Simmons is a fighter. Seems like all she experienced in life was rejection,heartache and pain until the birth of her daughters.
Listen as Nicole Cleveland interviews Gazelle Simmons,author of "That Which Does Not Kill Us Makes Us Stronger"
Early on Gazelle felt the sting of rejection by her own mother without cause. She grew up adoring her father until his rebuff towards her started.  She left a house of dysfunction and ran directly into a series of dysfunctional relationships.
If you've ever made a bad choice regarding a man and asked the question, " Why do I keep going back?" you'll want to hear Gazelle's testimony.