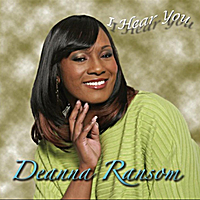 None of us escapes this life unscathed. But some of us are allowed to go through the intense fire of tribulation, ultimately coming out with a song on our lips. Deanna Ransom not only has come out of the flames singing, but the song she sings is stronger and more powerful than any she could sing before the inferno. The gospel recording artist is not only an incredibly gifted vocalist, but she's a woman on a mission to spread the love of God through song. The 2010 Black Essence Award Female Gospel Artist Nominee fuses popular genres like soul, jazz and R&B with gospel presenting a medley of inspiration with a unique flair that's all her own. Her new project, a TOC Records release, I Hear You, is filled with heavenly melodies sung from a woman with a deep passion for God. Ransom knows how to elegantly and intricately weave her beautiful soprano vocals around almost any tune and her CD is clear evidence of her vocal prowess.
Let's get to know Deanna Ransom.
Listen to the full radio interview here.
Current residence: Wilmington, DE
Church Home: Sword of the Spirit Ministries
BAM: How old were you when you began singing?
Deanna: 5 years old
BAM: How old were you when you wanted to be a singer?
Deanna: 10 Years old
BAM: What is your new CD about?
Deanna: It's a collaboration and portrait of my life. From pain and tragedy to rejoicing and triumph through Christ; it is a picture of endurance into transformation and new life.
BAM: What is your favorite song & why?
Deanna: I Am Healed. It is my anthem and declaration over my life and those who hear it.
BAM: How can we learn more about Deanna?
Deanna: The Discover Deanna Ransom Video series on both YouTube and the website https://www.deannaransom.com, on Facebook at Facebook.com/DeannaRansom1 and talking with Deanna on Twitter at @DeannaRansom.