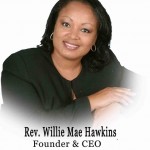 Dr. Willie Mae Hawkins resides in North Carolina.
Her hobbies include reading,riding her bike, spending time with friends and meeting people.
Bio:
Dr. Willie Mae Hawkins is an inspirational speaker, consultant, life coach and author (www.DrWillieMae.com). She is the founder and president of Spring, Inc.- A National Single Parenting Ministry.
As an ordained clergy, Hawkins serves as a Regional Women's Ministry Consultant for the Southern Conference of the United Church of Christ, where she primarily serves over 219 churches. As a liaison and resource representative, she provides spiritual support for more than 20,000 women.
Dr. Hawkins is the author of several books including She Builds a Vineyard: A Single Parent's Transformational Journey, and How to Establish Spiritual Transformation in a Single Parent Home. (www.shebuildsavineyard.com).
Business Info:
Spring, Inc. is a national single parenting ministry. Its mission is ministering to strengthen single parents to be the best for themselves, their children, and the Kingdom of God. It provides mentoring, coaching, counseling,  workshops and seminars.
Who do you want to connect with?
I desire to connect with caring professionals who desire to make a difference in their lives and the lives of others.
Visit here site – www.spring-inc.org