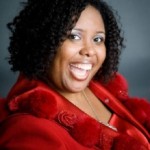 Sharvette Mitchell resides in Richmond, Virginia.
Her hobbies include shopping and surfing the net.
Bio:
Sharvette Mitchell is the owner of Mitchell Productions, LLC, a company created to provide stylish online marketing solutions. As the owner and designer, Sharvette creates effective websites and online marketing tools that assist ministries, non-profits, small businesses, authors and artists with showcasing their organization/ministry or products and services to the world!
On a weekly basis Sharvette can be heard on "The Sharvette Mitchell Radio Show" which broadcasts on Stellar Award Winning www.iShoutForJoy.com and www.BlogTalkRadio.com/Mitchell-Productions, the leading internet talk radio station.
In her spare time, she volunteers at New Jerusalem International Christian Ministries, under the leadership of Chief Apostle Olive C. Brown & Bishop Joel V. Brown as the lead Ministry Affairs Coordinator. In this role, she oversees 16 different Ministry Leaders who are responsible for all of the ministries in the church. She approves programs and events and provides consultation on marketing the individual ministries. In addition, she acts as the online marketing/communication consultant by managing three of the church websites and all email marketing tools.
Business Info:
Web Design Business- Mitchell Productions, LLC – Targeting  small or new businesses, authors, churches and non-profits.
The Sharvette Mitchell Radio Show- Listen every Tuesday from 6-7pm ( est ) Providing  various guests exposure to my audience base which is mostly women .
Media Coach-  Provides  single or group coaching for new artists and new authors seeking radio interviews or for new internet radio show hosts
Who do you want to connect with?
I want to connect with other like minded women and people!
Visit her sites –