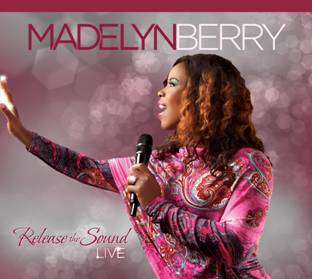 One of the sweetest sounds to God's ear is the sound of worship.  Worship Leader Madelyn Berry understands that and has no problem giving God all He's due.  Berry, a powerhouse vocalist, has clearly been gifted with the ability to bring God's people into His presence.  The recording artist has had the opportunity to sing with Darwin Hobbs and Jonathan Nelson, and open up for Canton Jones, Richard Smallwood, Judy Jacobs and Smokie Norful.
Seen on the Trinity Broadcast Network's Praise The Lord, BET's Bobby Jones Gospel and featured on Jawn Murray's compilation CD, Untapped, Gospel singer Madelyn Berry has been making noise in the Gospel music industry for a while now.  She's known for her energetic and pulse-pounding praise and worship song, "You Deserve All Praise.  Now she's making her voice even louder with her  new  CD  called Release The Sound, a live project including guest appearances by Martha Munizzi, Darwin Hobbs, LaRue Howard and Trent Cory.
Let's get to know Madelyn Berry
What age did you start singing? – I have been singing all my life, entertaining my family during family gatherings. But when I was eleven years old, I sang my first solo at Payne.
When did you know you wanted to sing professionally? –  I was inspired to become an artist after attending my first Shirley Caesar concert at the age of 8
What is the name of the new CD? – I titled my latest project Release The Sound. It was inspired by a message series preached by my late pastor Dr. Zachary Tims
What is your favorite song and why? – "Freedom Today" is my favorite song off the record. It is an easy-to-learn, prophetic declaration about walking in freedom in every area of your life.
Who Inspires You? – Ce Ce Winans is one of my biggest inspirations. I have always admired her unique voice and her ability to connect with a lyric. Also, she walks in such grace and humility. I would love to meet her one day!
What advice would you give an up and coming artist? – I would encourage up-and-coming artists to stay true to their calling, and never doubt the gifts that God has placed inside of them
What has been the hardest lesson you've learned in the music business? – The hardest lesson I had to learn in this industry is that ministry and business should always remain separate. The main goal is always to touch lives and spread the gospel of Jesus, but it is also important that you handle the business aspect properly. In a nutshell, don't allow people to take advantage of you.

How can we learn more about you? – www.madelynberry.org
Twitter : @madelynbberry
Facebook: Facebook/OfficialMadelynBBerry
YouTube:YouTube/Madelynbberry
Instagram: madelynberry