Always feel unprepared for an interview? Are you lacking confidence, self-assurance or interpersonal communication? Second Chances' KIP Care program is co-sponsoring a community training with Pathways To Life Inc.  
"Preparing For The Interview"
on
February 12 at 10AM
.     
 The Second Chances program established the Kids of Incarcerated Parents (KIP) Care program component in 2001.This component was established to help children who have experienced an absentee parent due to incarceration. The program staff works closely with the families to break the cycle of  generational incarceration. The program is open to children between the ages of 9-14 who have fathers and/or mothers with non-violent felonies and/or misdemeanor convictions.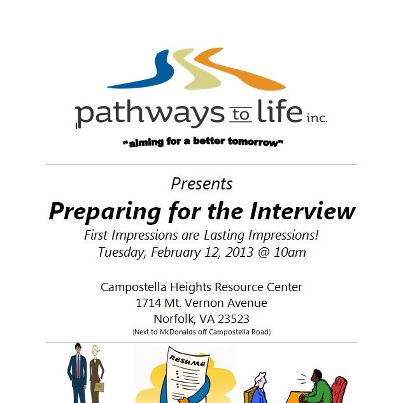 Garden of Hope, Inc.
1317 E. Brambleton Ave.
Norfolk, Va. 23504
(757) 390-4328
gohoffice5@gmail.com