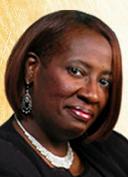 www.saintscommunitycogic.org
Miriam lives in Chesapeake, VA.
Her hobbies include writing, reading, and computer surfing.
She joined the friendz network to stay in touch with the issues that women have and to advertise programs that will motivate, inspire and help women to live the good life promised them in God's word.
She has been married for 27 years to Pastor Darryl E. Holt, (Saints Community COGIC) Mother of two adult sons; Brandon and Alex Holt. She graduated from Norfolk State University. She is an entrepreneur, workshop facilitator, mentor, business trainer in the field of administration. She's also the President and Founder of "A Sister's Heart Ministry". She is presently the President and Founder of Frontline Media Group; a printing and graphics business that not only specializes in the printing and design of wedding, funeral, and all special occasion programs, but also caters to the printing & specialty items for reunions, church functions and more.
She wants to connect with women, teens, and ministry leaders.