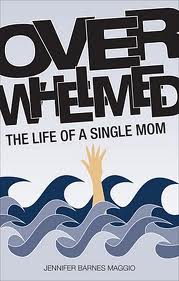 As the nurse left the room of the local, free health unit, tears began to roll down my face. My 17-year-old frame began to shake uncontrollably. The nurse confirmed that I was indeed pregnant. I was six months along, homeless, and alone. I had no money, no job, and no future. What would I do with a baby? Just a few months ago, I was Class President, Valedictorian, and on my way to a top-notch university with a full paid scholarship. Now, my life was over. And there was nothing I could do.
As a child, I had already walked through my share of heartache. My mother was killed when I was only a year old. Consequently, I was raised by my father, who used alcohol to mask his pain. My father married a total of six times and my home became a revolving door of misfits of every kind. I was but three years old when I began being molested by my stepbrother. This led to a series of sexual abuses over the next nine years at the hands of step-relatives, neighbors, and family friends. With the incoming of each new stepmother, I experienced a different agony. The loss of a "mother" became quite common. My stepmothers were rarely kind. I suffered beatings, malnourishment, and emotional torture at their hands.
Is it any wonder that I fell into sexual promiscuity at the ripe, old age of thirteen? Although I was a bright student, I never quite felt that I measured up. I never felt good enough. At 13, I became desperate for attention, love, and validation, and became sexually active. This led to a series of mistakes. By the time I was 17 years old, I found myself pregnant for the third time. Two miscarriages should have been my clue that my life was quickly spiraling out of control, but here I was, a 17-year-old graduating senior with a third baby in my belly.
It wasn't long after my father found out about the pregnancy that he quickly ushered me from the family home, never inviting me to live with them again. I was on my own. Where would I go? What would I do? I had the clothes on my back, a few items in a luggage, and that was it. That was all I was left of my past. My future had been flushed away and I was certain I had ruined my life. The father of my child traveled away to college and offered little support. It was in that moment that I had a choice to make. Would I allow this to defeat me or would I pull myself up by the bootstraps and make a way for myself and my soon-coming child? I chose the latter and began my new life immediately.
The future seemed bleak, at first. The best I could do was obtain government housing and used food stamps and welfare to help make ends meet. I landed a full-time job ten days after giving birth and started college full-time during the evenings. I had little furniture, no extra money, and an old clunker of a car that left me roadside weekly. But I was making it. It wasn't glamorous or perfect, but it was a life. I began to see a glimmer of hope. However, my long-term boyfriend came home from college on summer break and in an instant, I found myself pregnant again.
I was embarrassed and ashamed. I was emotionally devastated and was the closest to suicide that I had ever been. I began to take a hard look at my life. Where was it going? Would I always be a single mom living below the poverty line, unable to give my children the things they needed? How does a 4.0 scholarship recipient go from the fast track to a dead end so quickly? I began to toy with the idea of going back to church. Despite my past, I had always been in and out of church. I knew the ways of God and the things of God. But how could I go back? I had two kids outside of marriage and a barrage of other mistakes lingering in my past. They weighed on me like the weight of a thousand years and I was certain the walls of the church would cave in when I walked through the door. But……………I went anyway.
I would like to tell you that I had some life-changing, God-encounter on my first trip back to church, but I didn't. However, I did commit to continue going. Before long, I found myself attending two to three times a week. Slowly, very slowly, I began to have a new outlook on life. I was refreshed, optimistic, and more at peace than I'd ever been. During one of the Sunday services, the pastor began to speak on the principle of tithing– giving ten percent of your income to the church. This was not the first time I'd heard the concept, but my instant thought was "How can I give the church money when I barely make ends meet?" Over the next several months, I could not stop thinking about tithing and what the pastor had said. I decided to give it a try.
Within six months of writing my first tithe check, I landed a job almost doubling my meager income. It wasn't enough to get me off food stamps, but it was a start. I remained faithful. There were plenty of bumps in the road, but I never wavered with my church attendance or tithing. Within two years, I landed one of the most coveted jobs in our area and eventually became a highly-recognized corporate executive in our Fortune 500 company. To God be the glory! With his grace and mercy, he had chosen to pull me from the depths of financial poverty and put me on solid ground. I was living the life I had only dreamed about – taking lavish vacations, driving a luxury car, and purchasing a lovely home. I didn't deserve any of this, but my Father in Heaven loved me enough to bless me with those things. He didn't care about my past mistakes, the choices I'd made. He loved me. It wasn't long before he brought me the man of my dreams and we married shortly, thereafter.
I eventually left that Corporate America job and all its lavish amenities to pursue my God-given passion of ministering to single moms. I embarked on a journey of reaching out to the poor and hurting – the widow, the teen mom, the divorcee. Through the generosity and leadership of Healing Place Church of Baton Rouge, Louisiana, we opened the HPC Single Moms Ministry, now working with more than 200 women on a bi-weekly basis. Praise God that he never leaves us where we are. Praise God he hasn't forgotten a single one of us. Praise God his word is true and all of us have a story for his glory!
Jennifer Maggio's new book Overwhelmed: The Life of a Single Mom details her gut-wrenching tale of drama and hardship through her single mom journey, but ends in praising God for all he taught her along the way. The book offers a 12-part Bible study ideal for single mother's ministries. Jennifer has personally counseled more than 400 single moms and currently travels sharing her story. She has been featured on CBN.com and The Carolyn Gable Radio Show, along with many others.