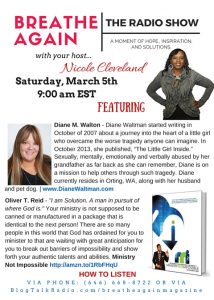 Diane Waltman's young life was a struggle. Sexually,mentally,emotionally and verbally abused by a family member, she is now on a mission to raise awareness to Child Sexual Abuse. She started writing in 2007 about a journey into the heart of a little girl who overcame the worst tragedy, one could imagine. In 2013 she wrote "The Little Girl Inside".
Listen as Dianes shares her victorious testimony of overcoming child sexual abuse and her mission to help others.
Author Spotlight with Dr. Oliver Reid
Your Ministry Is Not Impossible "Developing Your Assignment For Ministry."
Your ministry is not supposed to be canned or manufactured in a package that is identical to the next person! There are so many people in this world that God has ordained for you to minister to,that are waiting with great anticipation for you to break out the barriers of impossibility and show forth your authentic talents and abilities.