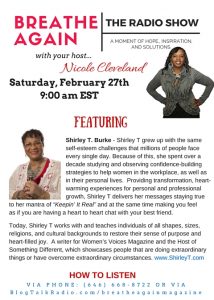 How does one heal after the loss of a child ? Parents should not have to bury children.
Motivational speaker, coach and talk show host, Shirley T. Burke knows first hand. Her son drowned at a very young age and Shirley was left to live through the pain.
Affectionately known as "Shirley T", Shirley T grew up with the same self-esteem challenges that millions of people face every single day. Yet, now, she walks through life with a sense of style, warmth, humor and acceptance that only comes from having learned how to be truly comfortable in her own skin. Ever the storyteller, Shirley T provides programs in a format much like a heart-to-heart chat with your best friend, mother or grandmother. She communicates with purpose, acceptance, warmth, and soulful intention.
Listen as we chat about love, loss,healing and her mission to help others truly identify who they are.