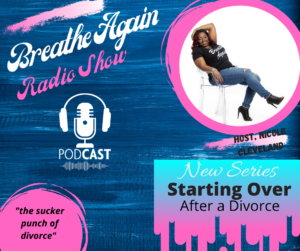 Welcome to our New Series: Starting Over After Divorce with Nicole Cleveland
Eavesdrop on the high and lows of starting over after a divorce. You may be in the beginning stages of your divorce, in the middle or you may be at the end.  If you are asking, "How do I put my life back together after it being torn apart?" or  "How do I overcome a shattered heart ? Well, you are in the right place. Listen to real, authentic self talks, along with conversations with divorcees that have rediscovered who they are and put their life back together again…..One heart string at a time.

Listen to Part I and II –  Don't forget to subscribe. 
Part I
Part II
Are you struggling with Starting Over after a Breakup, Betrayal or Divorce ?
Book your complimentary breakthrough call today !
Text BREATHE AGAIN to 757-504-4199