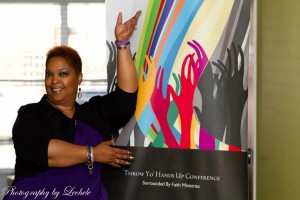 On Saturday March 9th I had the opportunity to be one of the Showcase Spotlights at the "Throw Yo' Hands Up Conference" hosted by Surrounded By Faith Ministries in Richmond, Virginia.
Surrounded By Faith Ministries, Inc., began as a Bible Study for women from all walks of life and from various churches in the home of Founder, Yvette L. Allen-Tatum.  Before the ministry was a Bible Study, it was an email ministry.
Today, there are fewer Bible Studies / ministry meetings because Surrounded By Faith is focusing more on EVANGELISM!
The Throw Yo' Hands Up Conference is a forum designed to take individuals  from faith to implementation in business and ministry.
This year the conference was held at the Comfort Suites -VCC.
Men and women from all backgrounds came together to learn, fellowship and relate with one another about their dreams, current business and ministries.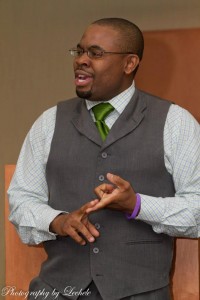 The Keynote speaker was author, trainer and Pastor, Alton Jamison.He shared Godly wisdom on starting your business with a spirit of excellence, creating Godly partnerships and controlling the meal, the marketplace and the money. He took us to church!
Whatever the Lord has dropped in your spirit to do, "Just Get Started" rang throughout the entire conference.
The lovely Sharvette Mitchell of Mitchell Productions, LLC and the host of "The Sharvette Mitchell Radio Show" ( Blog Talk Radio , Tuesdays at 6pm ) was the Mistress of Ceremonies. She did an amazing job and sprinkled media and marketing tips throughout the day. She even gave us a lil something sweet and salty in her well known Chinese box treats.
Brenda Powell from Brenda Powell Unlimited and Exodus Designs shared information about the pros and cons of business during her showcase spotlight.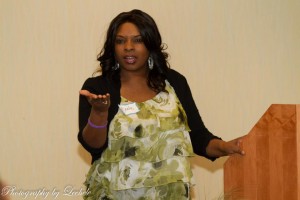 My segment was centered around  my personal testimony, being passionate about what you do in business and getting started with your dream. "Believe in Yourself" -Even if you're the only one that believes in you.
Job well done to Yvette Tatum, her husband and Surrounded by Faith Ministries for being obedient and doing the will of God.
Check out more photos from the event –  Person II Person – Photography by Lechele
~~
Nicole Cleveland
Founder of Breathe Again Magazine