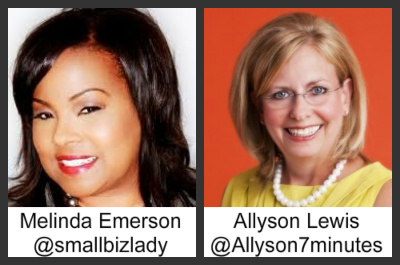 Each week, thousands of twitter users join small business expert and author , Melinda Emerson – @smallbizlady  as she chats with  other industry  experts on her twitter talk show #smallbizchat. This past week her guest was Allyson Lewis, – @Allyson7Minutes, author of The 7 Minute Solution: Creating a Life with Meaning 7 Minutes at a Time.
Below are 5 Tips from the chat  to simplify your life in 2012.
The requirements of small business can be overwhelming if a lack of focused attention on the priorities of your business are not engaged.  There are literally hundreds of things you can list that are a part of your success in business, but if most of us are focused, it boils down to five things:
I think the first priority for every small business person should be to take the 50,000 foot view and it begins with thinking.
Taking time to think without distraction or taking time to think with FULL attention will allow you to clarify your strategic plan.
With your strategic plan, you can set boundaries for a clear path that leads to a meaningful destination.
Next, prioritize your plan into high value activities to achieve your objective, take seven minutes each day to create a written daily plan of action so you will be much more likely on what is most important to your success.
Finally, you cannot do 100 activities a day. Commit to accomplishing 5 high value activities before 11 am each day. We call these completing these your 5 before 11.
There are hundreds of microactions to support those five steps, but until the first sale is paid for, business is about finding out what you do, connecting clients who need what you do, and how to deliver that product, service, or consultation for a profitable payment.  It is very easy to spend an inordinate amount of time wishing you had clients, but when you shift into a specific, measureable, actionable expectation goals each day such as  "I will greet each person with smile and "How can I assist you?" or "I will call 10 of our clients to see if they need assistance and to make them aware of our current offer" , we move from overwhelmed to on target for success.
Imagine how doing 5 of these actions before 11 a.m. each day. How many of you have actually called, or checked up on 900 of your clients or potentials in the last 90 days? Could you see the value of consistent achievable microactions for your business?
You can read the full chat on Melinda'a website – https://succeedasyourownboss.com/01/2012/just7/
Melinda Emerson is a nationally known small business expert,trainer, speaker and the author of Become Your Own Boss in 12 Months; A Month-by-Month Guide to a Business That Works. 
Allyson Lewis is a nationally known speaker, columnist,trainer and author of several books. Her latest book, The 7 Minute Solution: Creating a Life with Meaning 7 Minutes at a Time.