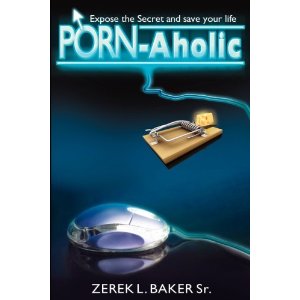 Being held captive by pornography can sabotage one's life because of its' ability to cloud sound judgment.  Author Zerek L. Baker Sr. walks readers through his experience from the first exposure to his victory; "Victory begins with the admission that you're in bondage and the confession to those important to you that you've lived a life of secret sin.  As long as it's kept secret you can never be free of guilt, shame and condemnation," says Zerek.
"PORN-Aholic" doesn't just speak to those who are entrapped or overcame pornography issues, it resonates with wives, sons, daughters, & others who are often times the ones who may be most affected.  Chapter 7, "SHE LOVES ME…SHE LOVES ME NOT," is specifically written to the wife of a porn addict.  Zerek Baker first assures her that she is NOT at fault; the problem exists within the husband.  Also in this chapter, mothers of sons are offered a gentle, but profound, warning about assisting them in guarding their minds.
Zerek offers 5 tools that helped him gain some control over his flesh in chapter 5:
Get a Victory Over the Flesh
Singleness of focus
The power of fear
Get a life
Connection with God
For the single men Zerek L. Baker Sr. suggests that they start with tool #5 and work backwards. He also stresses that he is not writing about pornography as an authority; he felt compelled to do so as a life calling & the above listed tools were a practical & realistic set of disciplines that gave him a "degree of victory" over the vice of pornography.  Zerek states that gaining a basic understanding of the switches that trigger the pornographic impulses and actions, one will be able to effectively take part in the battle for control of the flesh.
While reading "PORN-Aholic; Expose the Secret and save your life," by Zerek L. Baker Sr., I felt the sincerity of this book's purpose.  Zerek has daringly exposed his old secret to help 'you,' save your life.
~~~~~~~
Reviewed by Larie Writes
Author of "My Heart Speaks"
Breathe Again Magazine Resident Book Reviewer