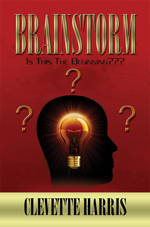 Think about the last storm you endured.  Did you try to "take cover" until it ended?  Maybe you blindly walked through it as fast as you could, trying to remain as dry as possible, and hoping for the end.  How did you feel about the storm once it ceased?  Author Clevette Harris revisits her time during a storm in the book, "BRAINSTORM:  Is This The Beginning???" which encourages readers to embrace their storms.
Clevette suggests that when we are hit with an unbelievable expectation that is far from what we previously thought that makes our heads turn like that of an animated characters', it's called a '"POWER SURGE."  These surges may affect each one of us differently.  Some may be blown down, while others could get a burst of energy that lifts them up.  Referencing to Matthew 17:20, ("If you have faith as small as a mustard seed, you can say to this mountain, 'Move from here to there,' and it will move.  Nothing will be impossible for you."), Clevette Harris says, "That my friends, is the Possession Of Wondrous Energy Released or what I say is POWER." (Introduction p. 16)
Fighting medical issues that some doctors coined as, "unreal," because of lack of sufficient evidence, facing financial strain, material damage and longing to be a faithful servant for the Lord, Ms. Harris guides us through her praise-worthy struggles which brings about a tangible understanding of faith; what it looks and feels like.  Readers are left with Psalm 121, a song of ascent, (one sang as worshippers ascended up the mountain to the temple), which aptly compliments Harris' analogy of her faith-strengthening trials.
As I read, I caught myself releasing an excited "Yes, I know, me too!" or, "Okay, I see.  Wow, that makes sense, I never thought of it that way." a few times.  Clevette Harris' testimony certainly reins confirmation to this statement, "It's always beautiful after the storm."
~~~~~~~
Reviewed by Larie Writes Author of
"My Heart Speaks"
Breathe Again Magazine Resident Book Reviewer