"A practical guide that can be used for intercession and effective prayer"
Conversations of a Watchman: Prayers to Frame Your Prophetic Destiny is a clarion call to believers.
"Will you stand in the gap and intercede or will you give up on others and yourself? "
From the moment I started to read K.E. Allen's "Conversation of a Watchman: Prayers to Frame Your Prophetic Destiny", my spirit identified with the words and tears rolled down my face.
I could literally see the Lord standing on a rooftop asking the questions that were posed in the book.
Will you answer the call to intercede for others?
Will you be the one to convince God to show mercy as Moses did?
Will you be the one to pray for your nation to experience true deliverance?
How long are you willing to intercede until you see Christ born in others?
Author K. E. Allen breaks down the scriptures in Conversations of a Watchman: Prayers to Frame your Prophetic Destiny in order to show the readers how to pray past the selfish, one dimensional prayers that go unanswered.
After reading this book you will have the tools to intercede on behalf of others until manifestation is revealed and prayers are answered. You will also discover the secret to building a deeper, more intimate prayer life with our Heavenly Father.
The author takes us on a journey of utilizing our authority, as children of the most high God. K.E. Allen doesn't just tell us to pray, she provides the correct words to say in prayer.
Reviewed By Nicole Cleveland Founder of Breathe Again Magazine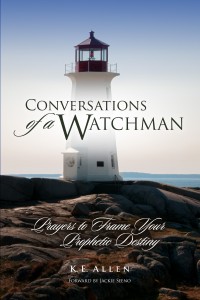 About the Book:
How does a person move from a place deficient of light?  How can an individual shift from a place of complete and utter chaos, obscurity, apathy, and adversity?  The pathway to transformation is through in-depth conversations with the One True God of Creation–El·?·h?m'.  For you to move to a place of prophetic providence, your conversation must be divinely inspired.  Hebrews 11:3 states: "The worlds were framed by the Word of God."  Framing begins with an idea, expands as a result of the imagination, and gives life through the inspiration of the Holy Spirit through divine utterance for a specific purpose.  Declaring the Word of God releases the creative power of God for authentic transformation.
K. E. Allen designed this book to draw you into a deeper conversation with the Father to renew your prayer life, mend your brokenness, enlighten your pathway, and arrange your chaos according to the divine order of God.
Excerpt:
WHO IS THE WATCHMAN?
The watchman is responsible for framing prophetic destiny
spoken by the council of God. The watchman's anointing allows
one to perceive accurately the enemy approaching from a distance to
warn the people of God of the plots and plans of the enemy.
(Ezekiel 33:1-6).
As one matures and develops a disciplined prayer life, prayer
becomes a conversation based on God's covenant, God's heart,
God's mind, and God's purpose. God and His purpose are the center
and focus of every dialogue. Essentially, prayer is an exchange of
ideas about His purpose pertaining to one's family, ministry,
business, community, and nation. This is the key to successful
prayer–exchanging self generated thoughts for God's thoughts.
When one prays apart from God's desires, there is no guarantee of
answered prayers. The assurance comes when one's desires align
with His. Asking according to His will cultivates the confidence that
He hears, He answers (1 John 5:14-15), and He is faithful.
Understanding God's authenticity facilitates a deeper level of
conversation based on relationship.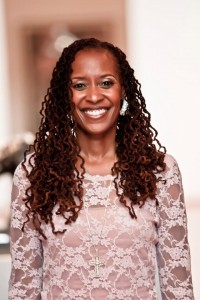 About the Author:
www.facebook.com/FreshReignPublishing
K.E. Allen has proven to be an incredible, spiritual force in the Kingdom of God by displaying a God given indomitable spirit to change atmospheres and environments. Through the extraordinary gift of intercession and pure worship, she has become a spiritual weapon in the hand of the Lord whose knowledge is relevant for the church today. She is a dynamic leader, extravagant worshiper and prophetic intercessor whose worship has become a definitive lifestyle that penetrates and permeates every facet of her life and the lives of those she touches.  Karla is a leader to leaders and lives a life of committed consistent intercession, giving selflessly of herself in her prayer closet.  For over 20 years, as a student and teacher of the Word and woman of faith, she implements the truth of the Bible through the dynamics of intercession and worship that releases a tangible anointing.  Knowing firsthand the transformative power of God in her own life, she is determined to see others healed, delivered and set free. Karla will stop at nothing to see God move in the lives of His people!
Purchase the Book:
Conversations of a Watchman: Prayers to Frame Your Prophetic Destiny
Download on Kindle:
Conversations of a Watchman: Prayers to Frame Your Prophetic Destiny