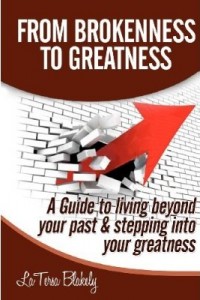 Sometimes, stepping into greatness actually requires taking a big leap; and that's just what authoress & entrepreneur LaTersa Blakely talks about in her debut book, FROM BROKENNESS TO GREATNESS.
Mrs. Blakely strategically shares her childhood insecurities which crept into her young adult journey and landed her in the last place she'd ever expected; the Psych Ward and she says, "If you heal the little girl, there will be no broken women." Readers are greeted with, "Your life can be whatever you want it to be,if you invest the time, effort and energy into making it a reality," in the introduction. LaTersa goes on to say that her desire for this book is to help broken women and girls.
From wanting to be liked by everyone, thinking that she's being taken advantage of by all men, and to a stank attitude, LaTersa came out & built the credibility to expertly offer herself as a guide for those who fight with similar or the same things. I enjoyed reading FROM BROKENNESS TO GREATNESS because I've been where LaTersa has been so I understand the courage it takes to publicly bare oneself as well as the sensational feeling offreeing your soul.
FROM BROKENNESS TO GREATNESS is a cheerful read, filled with self-evaluation nuggets, self-love assignments,and quotes which have daily inspired LaTersa Blakely. Go ahead, engage yourself in her story; learn& grow from it.
Reviewed by:
Larie of My Heart Speaks…™ & Resident Book Reviewer for Breathe Again Magazine