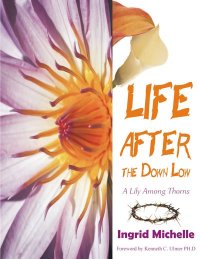 Men on the down low. Affairs revealed. Marriages unraveled. Though the phenomenon is all too common, the discussion about it rises and falls with the times. A universal dialogue typically takes place only when it has to do with a high profile male's fall from grace. The 'DL' lifestyle has become the elephant in the room. It's happening in somebody's home, but whose?
In Ingrid Michelle's novel, "Life after the Down Low," we take a look into the life of a man on the down low. However, it's not through the tell-all perspective of a man on the 'DL,' but through Michelle's real life story as a wife who must pick up the pieces of her life after her husband reveals that he has had sexual relationships with the young men entrusted to his care in youth ministry.
Michelle gives a voice to the otherwise silent women whose lives have been forever changed, and sometimes ended, because of deceitful actions of the men that they made the commitment to love and honor. And who were supposed to love and honor them in return.
A gripping read, the book opens with the weight of her then husband's confession dropping with a thud. As we relive what Michelle calls the greatest catastrophe in her personal history, the pages are awash with disbelief, pain and anger. But rather than buckling from the pressure and shame, Michelle takes the high road, exhibiting phenomenal strength as she uncovers the entire truth, layer by layer.
"Life After the Down Low" takes us on an upward journey. Leaning on God, Michelle seeks to fill the gaping holes in both her natural and spiritual lives left by the tumultuous marriage. She takes the time to orchestrate her own healing while raising and protecting her young son. The novel is centered around scripture that imparts wisdom and life lessons to pass on to other women.
The story is one of a situation made bearable only by standing on the promises of God. For Michelle, pain is not a dwelling place, but a bridge that she crosses to journey into her new life. Michelle is a living testimony of God exchanging "beauty for ashes."
Michelle says that writing the book was therapeutic for her, as well as an opportunity to "speak with other women and encourage them." It is her chance to say, "Hold on sista. Hold on. A change is coming."
In a world where dark truths are hidden, Ingrid Michelle emerges as a hero to tell her story, shining the light to free herself as she gives other women permission to do the same.

Life After the Down Low (A Lily Among Thorns)
By: Ingrid Michelle
Book Review by Adrienne Adams
President
The Write Vision Group
www.wtvmin.com