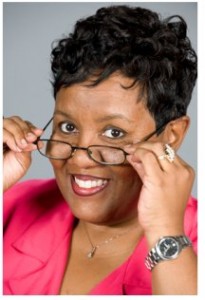 As I was preparing to share this message with my friends on my Keeping It Real page on facebook, the thought came to me, why not share it here on my blog! So here it goes…
When I first got the idea for being in business for myself, it was June 1990. I was working in Corporate America and not very happy with my salary. I loved my job but the pay just didn't come up to my expectations — I needed more, mind you I didn't say, wanted more… we needed more to make ends meet.
Being the computer geek that I am, at that time I would create greeting cards, brochures, flyers, wedding and funeral programs for friends and family at no charge, simply because I loved doing it! Well, that's until the day the light bulb came on …
"Start Your OWN Desktop Publishing Business ~ and make money doing what you love!"
Bingo… extra cash!
I gotta tell you, although I made some extra income here and there… it just didn't turn out quite like I thought!
Why? Because I didn't have a plan. I just thought business was going to come from…
where?… I dunno, LOL!
A lot of us start business the same way. We just know we want to do it without doing our home work first.
You see, there's more to business than just an idea, DBA, bank account and computer.
It all begins with your mindset.
* If you're a negative person, you'll need to fix that.
* If you're a "know it all person" (i.e., you have a problem with listening), you'll need to fix that.
* If you're hard headed, you'll definitely need to fix that.
* If you're in a box, you need to get out (you're subconsciously suffocating).
* If you're cheap and not willing to invest in yourself, let alone your business, you need to fix that.
* If it's just about money, it will never last.
I'll also share with you why there's the 3% who make it in business and why 97% struggle on a continuous basis.
My problem was, I wanted to do it my way! I thought I had everything I needed. I didn't want to listen to anyone else because my idea was better than they could ever tell me! I didn't want to network, I didn't want to read boring books, I didn't want to go to workshops or attending seminars… I just wanted to design whatever was requested and pass out business cards!
Well needless to say… all of my business was based on word of mouth… uh, that equaled to approximately 45 to 50 customers.
My primary mistake? I made it about money. All I wanted was the extra cash and didn't realize I was struggling in my business!
When the cash stopped flowing, I justified my business failing saying things like, 'people don't want to pay for anything' and 'I don't know what to do to get more customers' and 'I don't have time for this or that'…
it was pretty sad! I had justified failing… failure didn't come to me… I quit on myself.
It wasn't until years later, I realized or for a better choice of words… faced the truth about myself – that I was just flat out lazy and on top of the fact, scared to approach strangers… I had the big four letter word syndrome…
F E A R (false evidence appearing real)
Subconsciously I knew I was dealing with fear – I just didn't want to face it – however, I knew I wanted to change it. I read a book by Mark Matteson entitled, "Freedom from Fear", talking about revelation! This tiny little book changed a lot about what I was doing to myself! I had missed the whole perception about business because I chose to overlook my shortcomings.
SIDE NOTE: I'm a very spiritual person and that's a personal relationship between me and God… its His direction, peace and promise that keeps me focused every single day (I believe in giving Praise to whom it's due).
At this point, I wanted to read everything… well everything that pertained to self improvement (personal growth) and I had a mentor. He was a strong force in my [personal growth] life… he would say things to me that no one else could ever get away with (other than my Husband and Mom, LOL!)… He pushed me to dig deep, he encouraged me to try things I had never tried before, he insisted that I get out of my own way… to my purposed life. That's not an easy journey… but it was one I welcomed because I wanted CHANGE. (All the things I didn't want to do, I started doing!)
dunns_river_fallsDesiring change, opened up so many opportunities! I traveled all over – to places I never thought I would go! I ate at restaurants that I never thought about going to – we frequented Ritz Carlton hotels – I even climbed Dunn's River Falls (in Jamaica) … yes me! I did it! LOL! (here's a clip of the falls, not my clip just one I found on YouTube).
I'm saying all of this to say… even though I don't have enough time to list everything I've been blessed to see, do, buy, etc., — those are not things I dreamed about! I didn't have a dream and…
I Didn't Have Purpose!
What I do know however, is that I've always wanted to help people. I just didn't know that it would include making money, LOL!
I have a passion and that passion is helping people succeed in life and business and I get paid for doing it.
I allowed myself to get out of my own way… I stepped outside the box, no matter how fearful it was (cause let me tell you, when I saw Dunn River's Fall… I was like, "who's going to climb that? Not me! LOL!" – but I did. When I was told to speak in front of a room of hundreds of people, oh my gosh, talking about trembling! But I did that too…) because I knew my story would inspire others, even if it was only one person… I made a difference!
Today I have an entire different perspective of what business truly is – including my purpose. I'm a lover of people, right where they are IF, they desire to live life on and with purpose. When it comes to friends, I only associate with those who are positive (and yes, I'm human — sometimes we vent, but its not what we do every single day – we're encourager's!) I despise constant negative conversations, gossip and self justified (fit in) cliques. Removing such negativity from my life is a breath of fresh air.
The Truth WILL Set You Free
I've learned a very hard lesson and that is, business is not about money. Yes, there are those who would beg to differ and that's okay for them… I'm just sharing my perspective. My sincere passion for helping others has afforded me the opportunity to be 100% self-employed for many years – I don't have to answer to a manager, or punch a time clock, I set my own hours, and I go to lunch whenever I get ready. That's important to me because that type of freedom allowed me to take care of my husband when he was terminally ill, to be there for my Mother when she needs me, to lay down my life and support my brother and to attend events if they are held during a week day without having to take a vacation day.
Is everyday peaches and cream? Heck NO! LOL! I still go through challenges and have obligations just like everybody else, but so does Oprah, etc., and the so called 'gurus' online – we're all going through a process – there will never be perfection — money or no money!
And yes, money is very crucial to my overall needs however, the purpose, passion and commitment to educating myself regardless of what I *think* will or won't work – overrides just thinking about money… the money comes as a result of reading, listening, commitment, mentors and my coach – this has made all the difference in the world and as my old mentor says: "it just gets gooder and gooder." 😉
Does this mean I've 'arrived' financially? Nope. I have a couple of bills that that are a thorn in my side — and with the same persistence, they'll be gone VERY soon — however, money is no longer the primary reason I'm in business.
I'm constantly understanding the importance (unlike before) to have a plan — to rid myself of things that have no room for where I'm going (roadblocks that must be eliminated.)
Remember, it's not about always having to be right! It's about what's the best solution/answer for your situation (even if you didn't come up with it yourself!).
My most favorite quote in the world (cause it's mine, LOL!)…
"An excuse is a justification to make the soul feel good."
I stopped justifying the reason things 'didn't work' and looked at the truth, started the process and loving the journey.
Regina Baker is the co-creator of Wahmcart.com and Certified Business Consultant at ReginaBaker.com. She's dedicated to educating the small business individual on how to do business by the book as well as teaching ecommerce solutions that will allow them to work smarter, not harder. Find out more about Regina at www.reginabaker.com