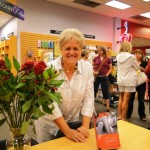 Bad luck followed me all my life. Nothing came easy. Life in Bulgaria, a country behind the Iron Curtain, was hard. Depression and fear followed me from early childhood. I knew at some point a wizard had turned me into an invisible frog. My Prince would never be able to find me and break the magic with a kiss. I was invisible! I believed I was under a curse.
It all began with my grandmother. When Grandma was born, her mother put her in a basket and left her by the roadside in a small village of Bulgaria. She, and a few other women, hid in the bushes to watch who would be the first passerby. Grandma's mother had given birth to five children already, all of them stillborn. Afraid that her baby might have inherited the bad luck of the rest of her children, the desperate mother followed the suggestions of some of the elderly women in the village. They believed the child would acquire the good luck of the person who would find her. The beggar of the village almost tripped over the basket on his way to the village pub—so much for good luck!
Poverty and misfortune was constant companion of my grandma since then. She got married to the love of her life, but her husband suddenly died just before their child was born.
Grandma married again after struggling to raise her daughter on her own for several years. Her second husband owned a grocery store and had saved some money by hard work.  One day the communists confiscated all his money and property, called him "capitalist" and threatened to kill him. Poverty grabbed my Grandma by the throat again. Her husband never recovered from his nervous breakdown and began drinking.
Grandma, a tough Bulgarian woman, worked for twelve hours a day to raise her daughter and to take care of her husband.
When her daughter married, she left me, her firstborn daughter, with Grandma to raise me up. Prematurely born and abandoned, I developed a lot of health issues. Sick and poorly fed during my childhood, I found alcohol early. My life was speedily going downhill. I blamed it all on Grandmother's curse. Convinced that misfortune would follow me all the days of my life, just like it never left Grandma, I sank into a bottomless depression.
My bad luck changed dramatically since I became a believer in Jesus Christ. I realized I was not under a generational curse any more. Jesus took up the curse on the cross. The Word of God says in Galatians 3:13-14:
Christ has redeemed us from the curse of the law, having become a curse for us (for it is written, "Cursed is everyone who hangs on a tree"), that the blessing of Abraham might come upon the Gentiles in Christ Jesus, that we might receive the promise of the Spirit through faith.
I do not walk in the bad luck of my Grandma anymore. I am the recipient of the blessings of my heavenly Father. Every day for twenty-two years now, I wake up with a song in my heart looking forward for the next move of God in my life, trusting my Father in heaven for his grace. He has restored all that was stolen from me through the years of my misfortune. Jesus loves me with unfailing love. I am called a daughter of the Most High God.
~~~
Nadia Ianakieva is an inspirational writer. Her book The Red Dress Decision: True Stories of a Life Filled with God's Miracles depicts her experience as a believer in her native country Bulgaria and later in the US where she lives with her family now.   www.wix.com/nianakieva/nadiaianakieva