On July 24, 2011 I had the honor of being the Mistress of Ceremonies at the U.S.D.A Food and Outreach Volunteer Appreciation Service. The service was held at Morning Glory Baptist Church in Gloucester, Virginia under the leadership of Rev. Leonard Chapman Sr.
This was my first time in Gloucester so it was an adventure .It took my husband and I over 90 minutes  in travel time. When we arrived we were treated with love and kindness. ( Thank you Morning Glory )
Longtime volunteer,church member and community advocate, Althea McCray coordinated the service.What a sweet spirit Sis. Althea has. She is truly a giver.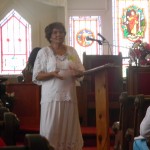 The worship and praise was rendered by Sister Cora Harvey Armstrong and Family. These ladies was anointed and ushered us into the presence of God. They sang not because they were singers, they sang because God did something for them and you can tell by listening.
Over 25 volunteers were honored during this service.
From the Food Bank of the Virginia Peninsula to individual volunteers. At the close of the ceremony I left the congregation with this scripture.
Mathew 25:40-44
40 "The King will reply, 'I tell you the truth, whatever you did for one of the least of these brothers of mine, you did for me.' 41 "Then he will say to those on his left, 'Depart from me, you who are cursed, into the eternal fire prepared for the devil and his angels. 42 For I was hungry and you gave me nothing to eat, I was thirsty and you gave me nothing to drink, 43 I was a stranger and you did not invite me in, I needed clothes and you did not clothe me, I was sick and in prison and you did not look after me.' 44 "They also will answer,'Lord, when did we see you hungry or thirsty or a stranger or needing clothes or sick or in prison, and did not help you?'
45 "He will reply, 'I tell you the truth, whatever you did not do for one of the least of these, you did not do for me.'
God Bless Morning Glory and what they are doing for the community in Gloucester, Virginia.
Written By Nicole Cleveland