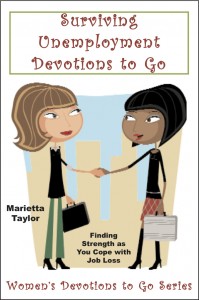 When Marietta Taylor and her husband relocated from Chicago, Illinois to Raleigh, North Carolina, they encountered a life-changing surprise. With two young daughters in tow, their move was dependent upon both their incomes. While Marietta began work as planned, Rick's promise of a job transfer fell through. Feelings of excited anticipation quickly gave way to panic, uncertainty, and fear of the struggles to come.
As the lady of the house, Taylor begins the astounding task of working a full-time job, getting her daughters adjusted to their new school, and helping her husband to start from scratch, piecing together a resume, scouring employment listings, and going on job interviews.
Marietta Taylor's book, "Surviving Unemployment Devotions to Go," is a devotional that reads like an e-mail from a friend. She is candid, smart, and funny. She reveals to you the things that most people wouldn't, just so you can learn from her experiences. Each chapter has a scriptural reference and a prayer focus that condition you to hold on to the Lord's promises and obey His Word, even as the storm of circumstances make you a little unsteady.
"Surviving Unemployment Devotions to Go," offers tips on thankfulness (Taylor's family challenged themselves to find a 'silver lining' during the worst days), frugality and money-making (She never shopped without a coupon and sold to consignment shops for extra cash), and keeping a consistent relationship with God (She says that prayer is like anti-itch cream…re-apply as needed.)
The emotions and obstacles brought about by unemployment are some that many of us face each day in different situations. There is debt, marital discord, and the tough job of trying to meet the needs of everyone in the family. I would recommend this devotional to any woman who manages a household.
Taylor shows us that we can live, love, and laugh through our issues, and make the best possible decisions, while we trust God to lead us out of them.
Read an excerpt of "Surviving Unemployment Devotions to Go" at www.mariettataylor.net. Get your copy at www.edmbookstore.com.
Book Review by Adrienne Adams
President
The Write Vision Group
www.wtvmin.com