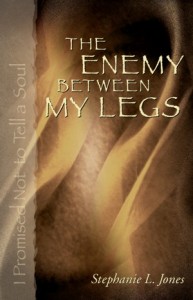 "THAT GIRL IS TOO GROWN" ……..
"WHY IS SHE ALWAYS AROUND GROWN MEN?"……..
"STAY AWAY FROM HER – SHE GONNA BE PREGNANT BEFORE SHE IS 16"….
"WHY DOES HE ACT SO FEMININE?"
Those are some things we make the mistake of saying before we really get to understand why the teen or child is acting out.
In "The Enemy Between My Legs" Stephanie L. Jones sheds  light on why so many teens are promisicous and why they behave the way they do.
This book is a great resource in starting the healing process if you have been abused. Stephanie shares warning signs that parents, teachers and caregivers can look for. Her abuse started at just 5 years old.
"To think I had my first sexual experience at only 5 years old is unimaginable. I often wonder what I knew at five. Could I recite my ABC's without singing them? How far was I able to count? What was my favorite dolls name?" says Stephanie in the book
A few chapter titles include; "My Innocence Stolen", "Protecting the Ones You Love" and Families Under Siege – Consequences of Sexual Abuse.
"The Enemy Between My Legs" by Stephanie L. Jones also deals with why abusers don't tell. What are the reasons they keep silent?
This book is filled with resources that will help take you from
V-I-C-T-I-M to V-I-C-T-OR as well as books,  sites and places to go for assistance.
( Book Info )
Purchase the book here
Visit www.stephanieljones.com
A must read for everyone.