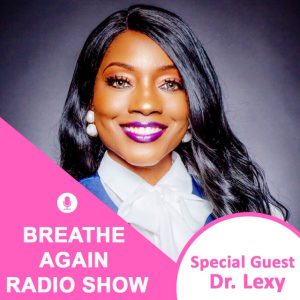 Dr. Lexy was married for 7 years and fought to save her marriage. Imagine receiving a text while in a board room with your colleagues that read," I don't want to be married anymore.By the time you get home I will be gone."
My God! How did she keep it together?
This led to feelings of self doubt and clinical depression.Today she knows her worth and her brilliance. Listen as she shares her victorious story of starting over after her divorce.
Click below to listen to the podcast.
Connect with Dr. Lexy: Instagram – @drlexy901   Facebook Group  – Release Your Brilliance
Breathe Again Radio Show / Podcast is hosted by Author and Motivational Speaker, Nicole Cleveland.
Would you like to share your story of starting over after a breakup,betrayal or divorce?
Contact Nicole at nicoleconline@gmail.com or connect via Instagram – @nicoleconline